***CHRISTMAS HAMPERS & POULTRY 2020***
This year has been a bit different for everyone and Christmas will be different for us all this year.
Here at Fosters, we are getting ready for Christmas and we are ready to take your Christmas Orders.
Once again, we will be doing our Christmas Hampers.
We are delighted to be able to say that the price of our hampers will be the same as last year!!!
We shall also be taking orders for Christmas Poultry including whole Turkeys, free range Norfolk Bronze Turkeys, Boneless Turkey Breast, Large Chickens, Ducks and Geese.
Please see the flyer below for details of our Hampers.
Orders can be placed by giving us a call on 01522 523369, or come and see us at the shop, email- fostersbutchersorders@gmail.com or send us a message on Facebook.
Please can you let us know your collection day when you are placing your order along with a contact number. The collection days will be Tuesday 22, Wednesday 23 and Thursday 24 December. However, if you wish to collect your Hamper on another day please let us know and we will be able to assist you with this.
#christmastimeatfosters
#thefoodonyourforkisfosters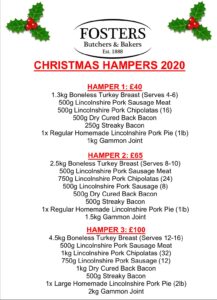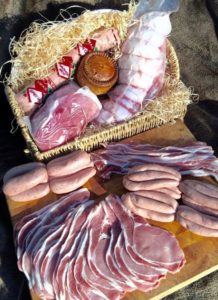 Entry Posted On Thursday, November 5, 2020